Pray for the dead and fight like hell for the living.
-Mother Jones
~~~~~~~~~~~~~~~~~~~~~~~~~~~~~~~~~~~~~~~~~~~~~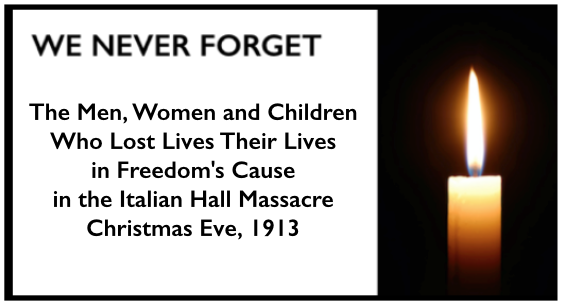 ~~~~~~~~~~~~~~~~~~~~~~~~~~~~~~~~~~~~~~~~~~~~~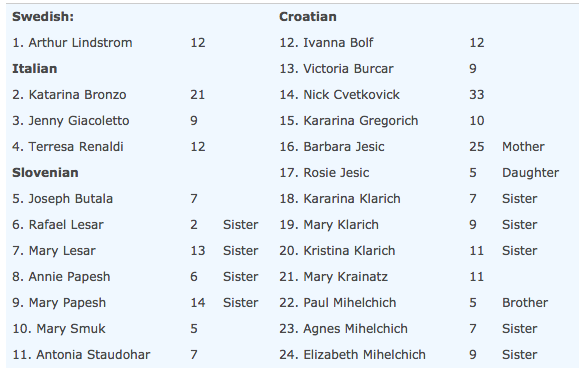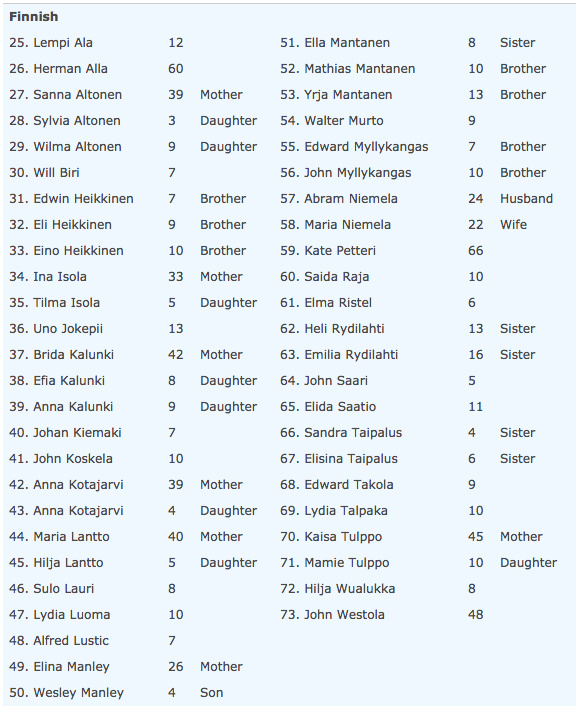 Wednesday December 24, 1913
Christmas Eve, 4:40 PM
This should have been a happy day for the children of Michigan's striking copper miners. The Calumet Women's Auxiliary #15 of the Western Federation of Miners, led by President Annie Clemenc, was giving the children a Christmas Party. Mittens, hats, toys, and candy had been purchased, and the children were coming onto the stage to receive their presents. Annie and several other women were at the stage trying to keep the children in some kind of order as they waited their turn to receive their presents. The party had begun at 2:00 PM and festivities were winding down. Still, the hall was crowded and noisy with about 200 adults, and as many as 500 children.
At about 4:40 PM a man with a hat pulled low over his eyes, a long dark coat with the collar turned up, and a Citizens Alliance button pinned onto the left side of the coat, came up the front stairs, entered just inside the main hall, and yelled, "Fire, Fire." There was no fire. The man turned immediately went back down the stairs, out of the building, and disappeared down the street.
The panicked rush for the stairs began immediately, and within just a few minutes the stairway was full of bodies packed tightly together. Men, women, and children soon suffocated in the crush. Untangling the living from the dead was difficult work, and could only be done from the top of the stairs. And when it was over the bodies of 62 children and 11 adults were laid out on the floor of the hall and in front of the building, outside in the snow.
Alla-Herman Alla, 60, left seven children behind. His wife had died only three years earlier.
Cvetkovich-Mary Cvetovich was Annie' friend from the Slovene National Benefit Society (SNJP). Annie had been President of the Calumet Women's Lodge since 1910. Mary's husband Nick died in the stairway that night.
Heikkenen-Little Edwin was celebrating, not only Christmas, but also his 7th birthday on the day that he died. Gustava and Phillipus lost two other sons on that terrible day.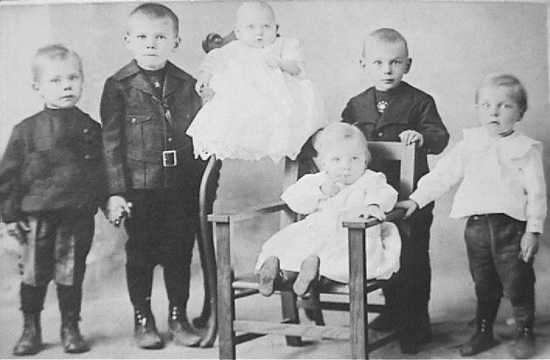 The Heikkenen Boys
Jesic-Little Rosie, who died with her mother, was a first-generation American. Her parents were born in Croatia.
Klarich-The three Klarich sister had all been born in Croatia.
Lesar-Frank Lesar identified the bodies of his little daughter Rafael, age 2, and his older daughter Mary, 13. Only a month earlier, his wife had died. He was overcome with grief.
Mihelchich-Out on the street, that dreadful night, was big Joe Mihelchich kneeling in the snow and sobbing before the bodies of his three children, Paul-5, Agnes-7, and Elizabeth-9. Joe was well remembered as the giant who had tossed deputies around like toys as they tried to arrest him, threatening them and everyone in the vicinity with two lighted sticks of dynamite. He now shook with sobs as he stroked the faces of his dead children, a broken man.
Niemela-The young couple, Abe and Maria Niemela died together in stairway. But Abe was able to save their six-month-old baby by lifting the little one up over his head as he suffocated to death. (Note: other sources say it was the mother holding the child up.)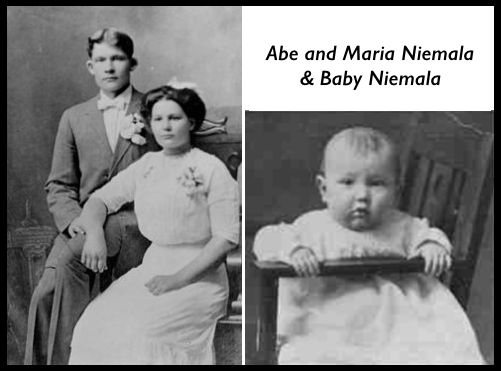 Saari-Little John Saari, 5, died in the crush after he was wrenched from his fathers grasp and pulled into the stairway in the panic.
Smuk-Little Mary Smuk, age 5, was the daughter of Annie's friend, Mary, from the SNJP.
Stauduhar-Mary Stauduhar also worked with Annie in the SNJP. She lost her daughter Antonia, 7.
Taipalus-Ted Taipalus, 10 years old, was pinned down with his brother Bill, 12, near the bottom of the stairs, yet they were high enough in the pile that they could still breath. They could do nothing as others around them screamed and died. Bill told Ted to stay quiet and be calm. They were eventually freed, and made their way home. Their father came home much later with the sad news that their two little sisters had been killed in the crush. That was the first time they ever saw their father cry.
~~~~~~~~~~~~~~~~~~~~~~

SOURCES
Italian Hall Park Dedication Program
Monday, November 13, 1989
Rebels on the Range
-by Arthur W Thurner
MI, 1984
Big Annie of Calumet
-by Jerry Stanley
NY, 1996
Death's Door
The Truth Behind Michigan's Larges Mass Murder
-by Steve Lehto
MI, 2006
Annie Clemenc and the Great Keweenaw Copper Strike
-by Lyndon Comstock
SC, 2013
Photos:
The Heikkinen Boys
http://1913massacre.com/news/newtown-calumet-and-dark-anniversaries/
Abram and Maria Niemala & Baby
http://genealogytrails.com/mich/houghton/calumetitalian.html
See also:
ACM: Annie Clemenc and the Italian Hall Massacre
-by JayRaye
http://www.dailykos.com/story/2013/12/22/1264311/-Anti-Capitalist-Meet-U…
Virtual Cemetery for Italian Hall Victims
-by Lyndon Comstock
http://www.findagrave.com/cgi-bin/fg.cgi?page=vcsr&GSvcid=400818

~~~~~~~~~~~~~~~~~~~~~~~~~~~~~~~~~~~~~~~~~~~~~

Sunday December 28, 1913
This song was sung at the mass funeral:
Nearer My God to Thee-Sharon Mennonite Singers
-Lyrics by -Sarah F Adams, 1841
Then with my waking thoughts
Bright with Thy praise,
Out of my stony griefs,
Bethel I'll raise;
So by my woes to be
Nearer, my God, to Thee,
Nearer, my God, to Thee,
Nearer to Thee.