Pray for the dead
and fight like for the living
-Mother Jones
~~~~~~~~~~~~~~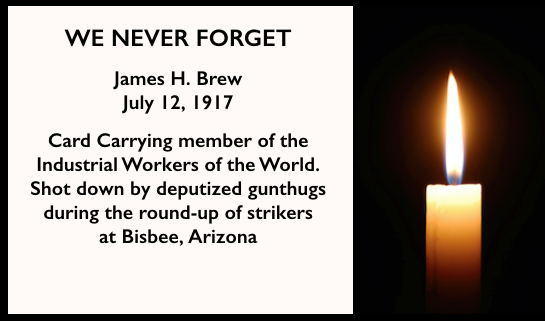 —–
Fellow Worker James H. Brew
Card-Carrying Member of the Industrial Workers of the World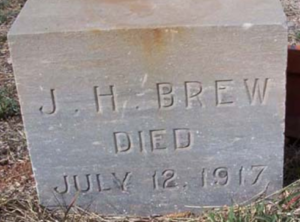 Fellow Worker James H. Brew was a card-carrying member of the Industrial Workers of the World. He was a miner and a boilermaker, and a seasoned veteran of the Cripple Creek Strike of 1903-1904.
During the early morning hours of July 12, 1917, he was asleep at his rooming house when a band of Sheriff Wheeler's army of deputized gunthugs and citizen vigilantes came to grab him as part of their warrantless round-up of the striking miners and strike sympathizers of Bisbee, Arizona.
Leading this band of kidnappers was Orson P. McRae, shift boss at the Copper Queen Mine and a member of the Loyalty League. McRae was accompanied by five deputized gunthugs.
FW Brew warned the would-be kidnappers not to enter, but with McRae in the lead, they were determined to force their way inside.
What happened next is described by W. Lane Rogers in the "The Bisbee Deportation" (see link below):
Striker James Brew was not enamored by the notion of five armed thugs breaking into his home, and he did what many people would do. He grabbed a pistol and sent "loyalist" Orson McCrae into eternity. McCrae's cronies opened fire and Brew was shot to death.

Later, McCrae was praised as a hero who "died for a principle."
Fellow Worker Brew's body was taken out at midnight and buried in the Elks section of Bisbee's Evergreen Cemetery.
Fellow Worker James H. Brew Honored
From "The Bisbee Deportation"
by Azazello of Daily Kos (see link below):
A few years ago, Bisbee native and former Cochise County Attorney John Pintek started a campaign to erect a monument to James Brew. Pintek was a prominent Bisbee Democrat whose father had been rounded-up in 1917. He had wanted to put a monument at the Warren ballpark but Brew is still a controversial figure in Bisbee and he couldn't get agreement. The monument is located next to Brew's original grave marker in Bisbee's Evergreen Cemetery. Baja Arizona Kossack Bisbonian was a member of the committee that erected the monument.
Memorial Plaque for FW Jim Brew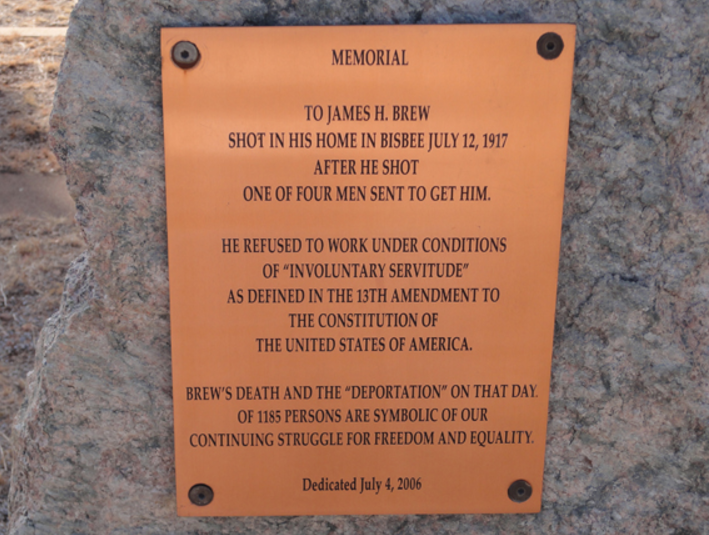 Memorial Monument for FW Jim Brew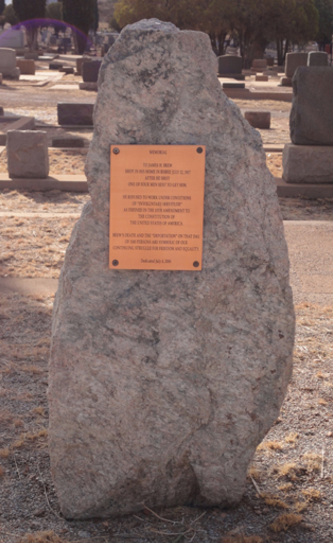 ~~~~~~~~~~~~~~~~~~~~~~

SOURCES
"Jim Brew, IWW"
http://www.library.arizona.edu/exhibits/bisbee/history/whoswho/jim_brew.html
Forging the Copper Collar:
Arizona's Labor-Management War of 1901–1921
-by James W. Byrkit
University of Arizona Press, May 26, 2016
https://books.google.com/books?id=1BkZDAAAQBAJ
"The Bisbee Deportation"
-by W. LANE ROGERS
http://www.twyman-whitney.com/history120-121/readings/The_Bisbee_Deportation.pdf
"July 12, 1917-The Bisbee Deportation"
-by Azazello
https://www.dailykos.com/stories/2011/7/12/993651/-
James H. Brew Buried at Evergreen Cemetery
Bisbee, Cochise County, Arizona
Memorial Created by Jim Pratt
https://www.findagrave.com/cgi-bin/fg.cgi?page=gr&GRid=17357286
IMAGES
WNF James H Brew, Tombstone, d. July 12, 1917
WNF James H Brewer, Memorial Plaque Dedicated July 4 2006
WNF James H Brew Memorial Monument, d. July 12, 1917
https://libcom.org/gallery/images-1917-bisbee-deportation
See also:
"I got locked up in a train car four times today…"
-by Bisbonian
https://caucus99percent.com/content/i-got-locked-train-car-four-times-today
…after I finished helping build it.

To add insult to injury, Azazello shoved me toward the car repeatedly, with the butt of his rifle, and loaded me into the car.
"Are You an American, or Are You Not?"
http://harvardpress.typepad.com/hup_publicity/2017/07/are-you-an-american-or-are-you-not.html
#WeNeverForget #Bisbee July 12, 1917

Watch "Deportation '17: A Film About a Film in Bisbee" on #Vimeo https://t.co/pHu5It5Z9s

— WE NEVER FORGET (@LaborMartyrs) July 17, 2017
~~~~~~~~~~~~~~~~~~~~~~~~~~~~~~~~~~~~~~~~~~~~~