Don't worry, Fellow Worker,
all we're going to need
from now on is guts.
-Frank Little
~~~~~~~~~~~~~~~~~~~~~~~~~~~~~~~~~~~~~~~~~~~~~

Hellraisers Journal, Tuesday July 24, 1917
Butte, Montana – Fellow Worker Frank Little Speaks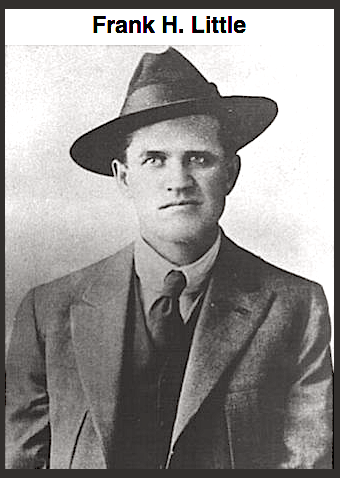 Fellow Worker Frank Little arrived in Butte, Montana, on July 18th as a representative of the Industrial Workers of the World. The Butte Metal Mine Workers Union is officially unaffiliated with the I. W. W., and yet, Frank Little, a leader of the Metal Mine Workers Industrial Union No. 800, was welcomed whole-heartedly by the striking miners and was invited to speak at a mass meeting held on July 19th at the Columbia Garden Baseball Park.
As he spoke, a light rain began to fall. Frank looked upward into the raindrops, raised his hands and remembered the miners left in the New Mexican desert following the Bisbee Deportation:
Oh man, if this rain could only descend upon that bull pen in the hot, sun-parched desert of New Mexico, and bring some relief to the two thousand noble men held there by the uniformed federal thugs, it would be appreciated.
Frank Little closed his speech with a call for Solidarity and Unity, the only means by which the working class can gain liberty from oppression.
Continue reading "Hellraisers Journal: Frank Little in Butte, Speaks to 4,000 Striking Metal Miners & Supporters at Ballpark" →