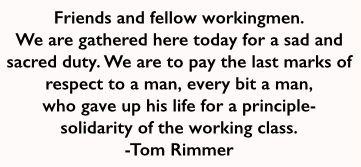 ~~~~~~~~~~~~~~~~~~~~~~~~~~~~~~~~~~~~~~~~~~~~

Hellraisers Journal, Wednesday August 8, 1917
Butte, Montana – Thousands March to Honor Martyr Frank Little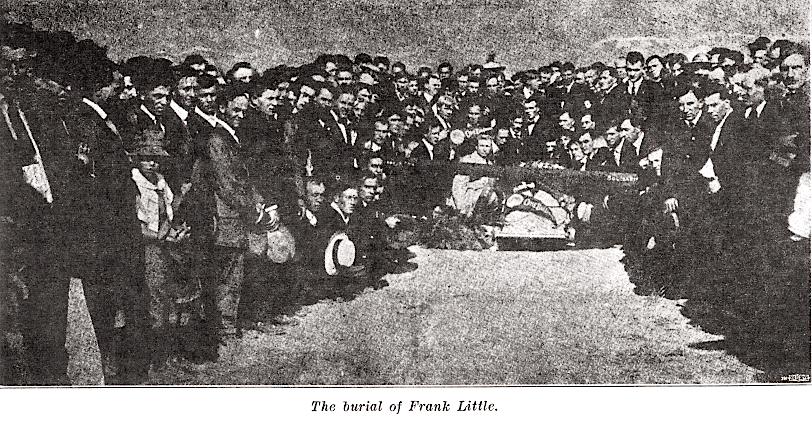 —–
On Sunday August 5th there was held the largest funeral ever held in the city of Butte, and, perhaps, in the state of Montana. Thousands of mourners marched behind the casket carrying the remains of Frank Little, the valiant warrior who gave his life in freedom's cause.
From The Anaconda Standard of August 6, 1917:
The voice of the mine owners could not refrain from sniping at the striking miners, their union (not affiliated with the I. W. W.), nor the union represented by Frank Little, the Industrial Workers of the World. Nevertheless, the report on FW Little's funeral appears to be, for the most part, accurate.
LARGE FUNERAL NO DISORDER
—–


DEMONSTRATION AND A SPECTACLE
MARK FINAL TRIBUTE TO FRANK LITTLE
—–

MANY FRIENDS MARCH
—–

Women in the procession, which is made up of more than three thousand-Red sashes and other I. W. W. emblems displayed- Moving pictures are taken-Stars and Stripes shown for a while, then removed. No religious service-Brief remarks were made at the grave.


—–

—–

Continue reading "Hellraisers Journal: Frank Little, Martyr for Solidarity, Laid to Rest in Butte; Thousands Honor Fallen Hero" →