Pray for the dead
And fight like hell for the living.
-Mother Jones
~~~~~~~~~~~~~~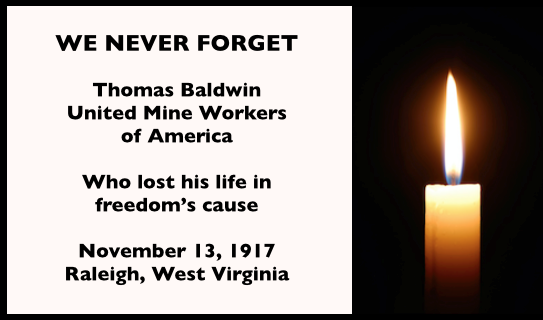 ~~~~~~~~~~~

Brother Thomas Baldwin
of the United Mine Workers of America
Murdered by Company Gunthug
November 13, 1917
Raleigh, West Virginia
Brother Thomas Baldwin, union miner, was going about his business in Raleigh, West Virginia on the evening of Tuesday November 13, 1917, when company gunthug, Sam Crews, snuck up behind him and slugged him over the head with a blackjack. He died three hours later. He left a widow and three small children to survive as best they could without a husband and father. Brother Baldwin's grave can be found marked by a simple stone at Raleigh Cemetery, Glen Morgan, Raleigh County, West Virginia.
"Raleigh Cemetery Watcher" at Topix has posted an article from the Raleigh Register Herald of November 1917 (exact date not given) which describes Brother Baldwin:
Baldwin, say his neighbors at Raleigh, was a good, reliable man, a steady worker, and provided well for his wife and three children. He was a member of the United Mine Worker's local that had been organized there some time ago, but was not inclined to give trouble. It appears that there was no reason whatever for his assailant's attack upon him.

He lived with his family about 200 yards from the company store at Raleigh. After supper, on the night of the murder he had gone to the store for some purpose. As he started for his home he noticed that Crews was following him. He stopped and spoke in a friendly manner to the guard, who replied in kind and then suddenly dealt him a heavy blow on the head with some blunt weapon, presumably a blackjack. Badly wounded, Baldwin made his way to his home and dropped upon a bed. Two physicians were called. They found his skull fractured and an artery severed. In about three hours he died.
Continue reading "WE NEVER FORGET: Thomas Baldwin, Union Coal Miner, Murdered at Raleigh, West Virginia, November 13, 1917" →