You ought to be out raising hell.
This is the fighting age.
Put on your fighting clothes.
-Mother Jones
~~~~~~~~~~~~~~~~~~~~~~~~~~~~~~~~~~~~~~~~~~~~~

Hellraisers Journal, Thursday June 14, 1917
Mother Jones News for May: Organizing in West Virginia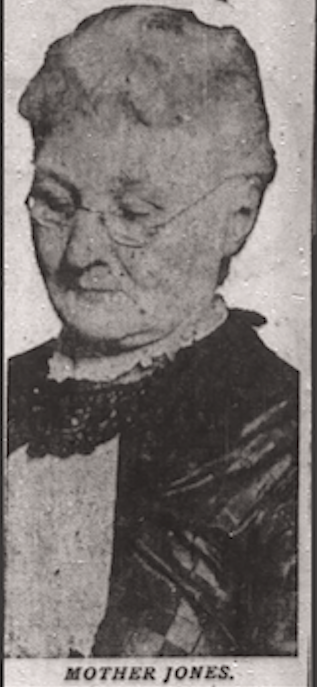 During the month of May 1917 Mother Jones was found in West Virginia on a mission for the United Mine Workers of America organizing the mining camps of the Winding Gulf District where she is beloved by the miners and considered a treasonous old-hag by the mine owners.
The following is part of a report from West Virginia published in the United Mine Workers Journal:
Judging from [her listeners'] expressions, I am confident that the results of that grand old lady's talk and the clean-cut statements of the other representatives as to the opportunity that the United Mine Workers of America are offering the miners of this field, and considering that we now have officials that believe in making contracts above the table, I believe I heard at least fifty or more men this evening say that if the national will keep Mother Jones in this field a while longer we will get a hundred per cent organization.
She also paid visits to Chicago and to Brazil, Indiana.
Continue reading "Hellraisers Journal: Whereabouts and Doings of Mother Jones for May 1917: Found in West Virginia and Indiana" →