You ought to be out raising hell.
This is the fighting age.
Put on your fighting clothes.
-Mother Jones
~~~~~~~~~~~~~~~~~~~~~~~~~~~~~~~~~~~~~~~~~~~~

Hellraisers Journal, Thursday November 22, 1917
Mother Jones News for October, Part I: Up Against the West Virginia Gunthugs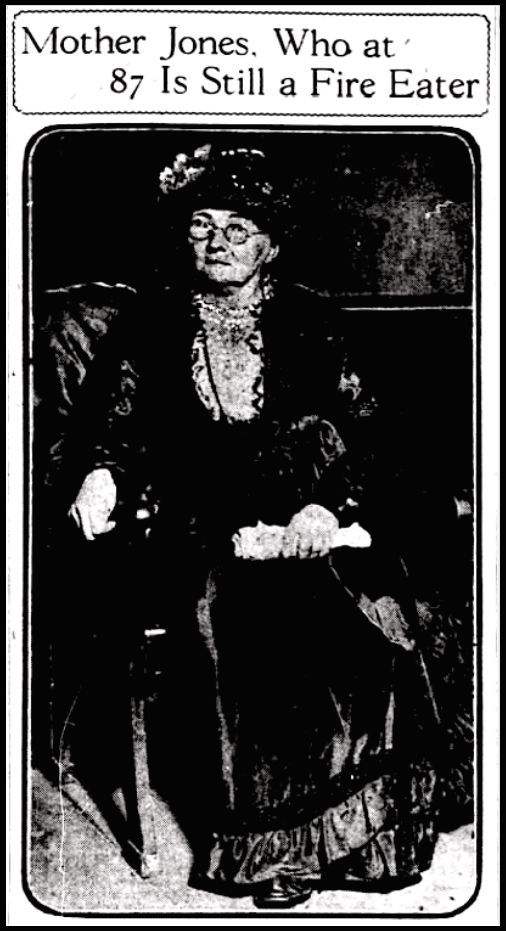 During the month of October 1917, we find Mother Jones in Raleigh, West Virginia, once more facing the Baldwin-Felts gunthugs. Lawrence Dwyer, organizer for the United Mine Workers of America, described the encounter:
So Mother Jones, accompanied by District President Gilmore, Lawrence Dwyer and other representatives, went to the meeting in an automobile, and as the meeting was assembling alongside of the county road, three shots were fired from a rifle on the hillside and sixty gunmen came from the hills, each having a high-powered 30-30 rifle. They swarmed around Mother Jones and the officials with her and they all having their rifles pointing at Mother Jones, and they said they would "shoot her damned head off," but Mother Jones didn't appear to scare at all; in fact, when they threatened to shoot her she told them back, "Oh, no you won't." In fact, I know I felt more uneasy than Mother Jones did.
Mother was also found in Washington, D. C., and in Colorado during the month of October 1917.
From The Beckley Messenger of October 2, 1917:
MINERS HOLD MEETING

A large number of miners from Raleigh and intermediate mines met in Beckley Sunday afternoon and held a meeting at the court house. Plans looking to the betterment of working conditions were discussed. "Mother" Jones was present and expressed the wish that the coal companies might dispense with the services of armed guards, wherever they were employed.
Continue reading "Hellraisers Journal: Whereabouts & Doings of Mother Jones for October 1917, Part I: Found in West Virginia, Washington D.C. and Colorado" →