I stand for Solidarity.
-Frank Little
~~~~~~~~~~~~~~~~~~~~~~~~~~~~~~~~~~~~~~~~~~~~~~~~~~~~

Hellraisers Journal, Tuesday July 31, 1917
Butte, Montana – Frank Little Stands with Striking Metal Miners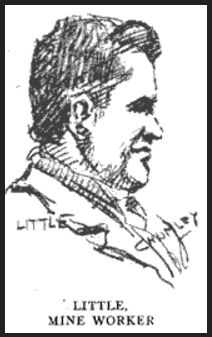 Frank Little, organizer and executive board member of the Industrial Workers of the World, has been in Butte, Montana, since July 18th where he has been active in the strike of the Butte Metal Mine Workers Union-Independent. Although Fellow Worker Little represents the Metal Mine Workers Industrial Union No. 800, the striking miners of Butte have invited him into their union meetings, and he is respected as one of the leaders of the ongoing strike.
Lately, FW Little has been encouraging not only the striking miners, but the working women of Butte also. The kept press complains that:
Little is now trying to get the Finn women to organize a strike among the laundry workers and chambermaids of the city.[!]
Editorial in Industrial Worker of July 28, 1917:

An editorial by Frank Little was published in the most recent edition of the Industrial Worker in which FW Little declares his strong opposition to the war now raging in Europe. Frank Little believes that the only war the workers should involve themselves in is the class the war. This bloody war is one between the capitalists of the warring nations, and does not concern us as workers. Frank declares emphatically:
I stand for Solidarity.
Continue reading "Hellraisers Journal: Frank Little Publishes Anti-War Editorial, Continues Organizing Work with Striking Miners of Butte" →